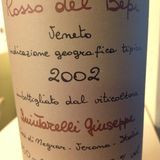 Recioto della Valpolicella Classico 1997 - Quintarelli
The Recioto della Valpolicella of the Giuseppe Quintarelli was born in Negrar, in the heart of the Valpolicella Classica, where the vineyards rest on hilly terrain of volcanic and calcareous nature. Wine capable of rising like few others and enjoying bottle aging.
Grapes: 55% Corvina and Corvinone, 30% Rondinella, 15% Cabernet, Nebbiolo, Croatina and Sangiovese. Date of harvest: from mid-September Yield per hectare (grapes): 80 q. approximately of which 15% - 30% is selected to produce Recioto and Amarone. Vinification and aging: The grapes are carefully selected on certain areas of land that are suitable for producing this wine only in certain years. In fact, Recioto, after the various alcoholic fermentations, must spontaneously maintain a considerable sugar residue. The drying takes place as for Amarone and the same vinification technique is used, while the refinement, always in medium-small Slavonian oak barrels, lasts five or six years. Color: intense garnet red with violet reflections Nose: scent of black cherry, cherries and jam In the mouth: sweet, slightly spicy with good persistent tannic structure, with a full, velvety, warm, delicate flavor. Serving temperature: 16/18 ° C
Data sheet
Grape variety
Corvina
Molinara
Rondinella
Alcoholic strength
13.5%
Format
750 ml
Region
Veneto
Name
Recioto della Valpolicella Classico
Vintage
1997
Disciplinary
D.O.P.